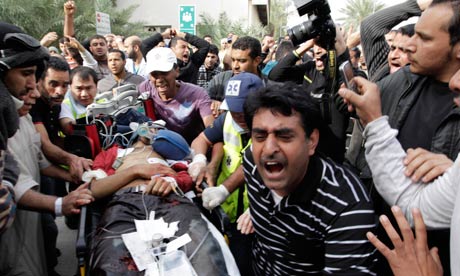 Good Morning!
The Middle East Revolution Continues….
Top Topics:
Libya Has A Deadly Crackdown
U.S. Interests Threatened In Bahrain
U.N. Resolution On Israel Puts U.S. In Interesting Predicament
U.S. Will Veto Israel Resolution
Uganda's Parliamentary Election Will Be Free and Fair
Ivory Coast Economy Is Suffering
Figures of Note:
http://media.economist.com/sites/default/files/media/2011InfoG/Interactive/ArabLeague_Jan16/Arab2.swf
Opinions of Note:
Micah Zenko and Rebecca R. Friedman on Not Cutting U.S. Foreign Aid Funding
Washington Post Editoral Asking U.S. To Start Supporting Bahrain Protesters
My First Thought: Interests vs. Ideals
The common theme running through all these protests in the Middle East is a demand for democracy.  Democracy is the value we claim to export and want other nations to have, unless our own interests stand in the way.  For instance, the reason Obama did not back the protesters in Egypt earlier was due to the fact that Mubarak had been a stable ally for the last 30 years.  Mubarak also kept the peace with Israel, another plus. It was not until the days after the protesters gained strength that the Obama administration decided to change its tune about Mubarak's despotic regime.  This scenario reveals a common theme in U.S. foreign policy: balancing our interests versus our ideals.
Our interests represent economic and military strength.  For instance, having oil in Iraq or Saudi Arabia gives us a reason to intervene there.  Our ideas are about spreading democracy where we can, or I should say, where it is convenient.  Bahrain is the newest test case of a country who we support the monarchy, which did institute some reforms in 2002, but it was not enough.  We support this regime of oppression because they were are ally during the first Gulf War and we have a naval base in the country.  So, the U.S. is stuck in the middle.  Does it support the oppressive regime that will keep its interests alive or support the democracy protesters and forgo an ally?  These are the questions we must answer with every regime that is under pressure.  Our answers will decide the next segment in setting a new foreign policy paradigm.
Photo Credit: The Guardian
Figures from Gallup and the Economist