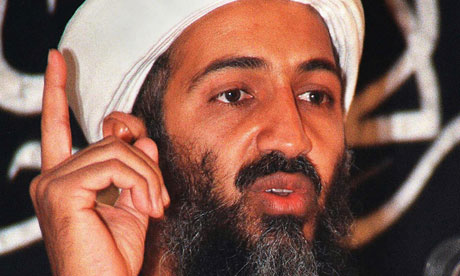 I can't think of better way to restart blogging again than to have U.S. foreign policy moment of the year occur last night.  Certainly this is a moment of hope in what has been a slow War on Terror.  For almost ten years, the country has, and still endures, a painful memory.  A sense of common closure comes the 3,000 family members who lost loved ones on the newest day to live in infamy.  President George W. Bush proceed with actions that forged a new path in U.S. foreign policy since the Cold War.  With the years passing, hundreds of soldiers patriotically dying for their country and two election cycles where the top issue has been Iraq or Afghanistan, a real "Mission Accomplished" banner can now fly high as the world's most wanted terrorist died at the hands of America's bullet.
This historic day rallied a feeling of patriotism in almost everyone I knew.  With a spring in our step, the U.S. feels in can accomplish almost anything.  In historical memory, this moment will seen as dramatic as fall of the Berlin Wall, Pearl Harbor, 9/11, and the capture of Saddam Hussein.  Today and this week, we celebrate with an unprecedented euphoria that was sucked away by the failures of both presidents over the last few years. High unemployment, a staggering deficit, an coming environmental catastrophe, and an ever changing international system still loom, but today all those problems are put aside to enjoy this glorious moment.
Now, to be a bit of buzz kill few a little bit. Yes, the U.S. accomplished a great achievement, probably the greatest achievement of the so called "War on Terror."  Both President Bush and Obama should receive credit for this achievement, although partisan rancor will probably start to seep through soon and congress will bicker to score political points for which party gets the credit.  All of the partisanship and happiness aside, we must not let our celebration turn to hubris, a common trait in the the history of America's political culture.
Last night, when the news hit the airwaves, I felt sad and patriotic.  Even with the best military in the world, new forms of intelligence gathering, two expensive wars, extensive drone attacks alone the Afghan-Pakistan border, and with several alliances struck (some dirtier than others) it still took us ten years to accomplish this feat.  In the end, Bin Laden was not killed by a predator drone strike or in Afghanistan.  He was killed in Pakistan, the capital no less, by a secret CIA/Military dispatch operation, almost exactly like the one utilized to topple dictators by the U.S.  We have come a long way since since the golden age of the CIA in the 1950s, where it was coups galore (Greece and Iran come to mind).  One basic question can sum up most fears I have: Is what we are doing worth it if previous Cold War style tactics are what killed Bin Laden and most terrorists?
This should also serve as a warning.  Islamic extremism and terrorism will still exist after Bin Laden, no one doubts that premise, the cause of one united Vietnam under communist rule still lived on in North Vietnam even after Uncle Ho (Ho Chi Minh) went to the great beyond in 1969.  The rallying cry of terrorists is still out there.  Our continued and unquestioned support of Israel, our support of Arab despots, our pact with Satan to get black gold, and the uneven distributions of globalization leaving many in poverty cause terrorism and hatred of the U.S., listen to any Bin Laden tape closely and you will find these themes laced throughout.  The spawns of Bin Laden's spirit will continue to fight the U.S. for these same principles.  Unless we radically change our ways, these problems will not go away.  Peter Beinert best described the U.S. as having "Icarus Syndrome," a diagnose for which I concur.
Not to be a Debby Downer on this day of glorious victory and America flag waving, but we must take this victory stride.  Sadly, moderation does not exist in the American foreign policy establishment vocabulary.  This day will either be one of dramatic, paradigmatic change or more of the same.  For our sake, I hope we pick the latter.
Photo Credit: The Guardian