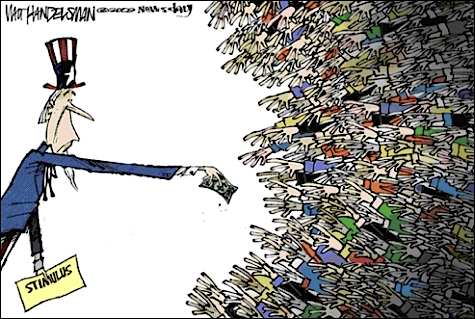 By John Stang
As I wrote yesterday, the Obama administration cannot propose a straight jobs programs whereby the government orders many public sector projects for immediate work.  Even a balanced budget stimulus is being booed by conservatives.  Instead, the administration must utilize mechanisms to "encourage" job creation in the private sector. There are two ways they want to do this.  First is to extend the payroll tax cut though next year.  The idea here is to reduce the amount of taxes taken out of an employees paycheck (social security, Medicare, Medicaid, etc.).  In theory, this makes it cheaper to higher works.  However, former Reagan and Bush economic adviser Bruce Bartlett says this will not work:
First, the tax cut only helps those with jobs. While many have low wages and undoubtedly are spending all their additional cash flow, those with the greatest need and most likely to spend any additional income are the unemployed.

Second, the payroll tax cut helps many workers who have no need for it and will only pocket the tax savings.

Third, economic theory and the experience with tax rebates in 2001 and 2008 tell us that people are strongly inclined to save temporary increases in income. People only increase their spending when they perceive an increase in their permanent income.

Fourth, even if one assumes that the cost of employment has declined and employers can somehow  capture some of the payroll tax cut, there's little sign that labor costs are the principal factor holding back hiring.
The second proposal that the administration is thinking about is creating a job training program to help workers receive skills necessary to get a job.  This solves the "structural problem" for why people cannot get jobs.  It makes sense, the federal government pays for a potential employeeable person to receive job training so they get a job afterwards.  There are several problems with this.  First, as Paul Krugman has noted, employers are not hiring because they are cash strapped, not because there is an unqualified field.  Second, that still requires massive amounts of federal aid, which congress is no mood to give.  Finally, all the programs tried like this that the Obama administration likes are on the state level.  The federal government could mandate state governments set up job training programs.  It would be like the healthcare bill and, again, many Republican governors would fight the Obama administration every step of the way.  These state programs are also subjected to budget cuts writes Suzy Khimm:
Many states that have adopted such programs began building them up well before the recession began, drawing on both federal and state dollars. In 2006, Pennsylvania started "Industry Partnerships," which have worked with 6,300 businesses to train more than 90,000 workers, who saw their wages rise by 6.62 percent on average after completing the program. Pennsylvania's initiative has received strong support from industry leaders as well, who lobbied hard to turn the program into law this year.

But even programs with bipartisan support and industry backing have fallen victim to budget cuts. In Pennsylvania, state legislators zeroed out Industry Partnerships' funding for training during this year's budget fight. When federal funding dropped by 39 percent for Michigan's  "No Worker Left Behind" job training program during the recession, state officials were forced to make huge any cuts to the initiative, which already had a waiting list.
More importantly, both extending the payroll tax cut and creating a job training program would take a long time to see results.  In a world where voters want to see jobs now, time is the biggest enemy of the Obama administration.