By Luke Brinker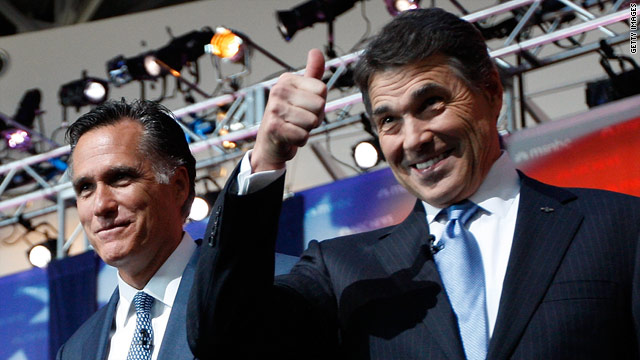 Last month, historian Rick Perlstein wrote in Time that if Democrats are serious about winning the 2012 elections, they'll tout their record as the party of cherished social programs like Medicare, Medicaid, and Social Security. Voters will rally behind candidates who pledge to protect the safety net, not dismantle it, Perlstein argued.
While the prescription was aimed primarily at President Barack Obama – who has indicated a willingness to slash Social Security as part of a deficit reduction package – it seems Mitt Romney took note of voters' affinity for social insurance. In last night's NBC News/Politico Republican candidates' debate, Romney assailed Rick Perry for labeling the program a "lie" and "Ponzi scheme."
In a line that would have met hearty applause at a Democratic pep rally, Romney said, "A candidate should be committed to saving Social Security."
To be sure, Romney's line of attack doesn't tell us much about his specific proposals to shore up the program. After all, George W. Bush promoted his ill-fated 2005 privatization scheme under the guise of "saving" the program. But if we know one thing about Mitt Romney, it's that his core conviction is that Mitt Romney should be president. After witnessing the debacle that ensued from Bush's 2005 privatization efforts, it's unlikely that a President Romney would pursue such a polarizing proposal.
Moreover, there's no need to drastically remake Social Security in order to solve its projected shortfalls. The inestimable Ezra Klein explains:
Over the next 75 years, Social Security's shortfall is equal to about 0.7 percent of GDP (pdf). If we increase its revenues by that amount — which could be accomplished by lifting the cap on payroll taxes — or reduce its benefits by that amount or do some combination of the two, Social Security is back in the black. Here are 30 policy tweaks that could get us there.

Why does Social Security show a shortfall? As Stephen C. Goss, the system's chief actuary, has written, Social Security projects an imbalance "because birth rates dropped from three to two children per woman." That means there are relatively fewer young people paying for the old people. "Importantly," Goss continues, "this shortfall is basically stable after 2035." In other words, we only have to fix Social Security once. After we reform it to take account of modern demographics, the system is set for the foreseeable future.
Of course, none of this matters to Rick Perry, whose brand of Tea Party politics frowns upon the New Deal/Great Society welfare state (even if most rank-and-file Tea Party members actually support Social Security). It's irrelevant whether a particular welfare program works. To Perry, it's a moral wrong for the government to even be involved in retirement security.
Ultimately, the Perry/Romney divide on Social Security offers an illuminating contrast between the two GOP frontrunners. One candidate is so committed to ideological purity and sees politics as the grounds for a contest between absolute good and absolute evil. The other sees politics as an arena for compromise, problem management, and pragmatic policymaking. The outcome of this primary, then, will tell us much about the GOP's future as a serious governing party.