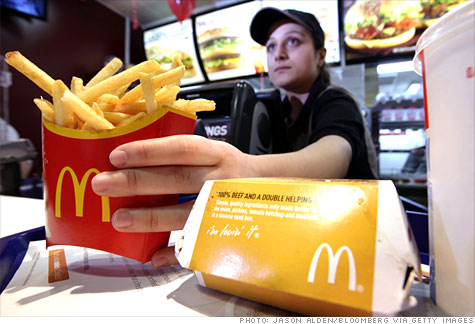 By John Stang
At a Tea Party fundraiser debate, supposed to be based on the Lincoln-Douglas debates of the 1850s, Newt Gringrich and Herman Cain both showed off their skills at discussing policy, or lack thereof.  I was busy getting my groove on at dance, so I missed the debate, but I did hear this line espoused by Gingrich about healthcare policy:
"Think about going to McDonald's," Gingrich said. "We have no national hearings on fraud at McDonald's. You show up and say, 'I'd like a Quarter Pounder with Cheese.' You give them money. They are happy. You are happy. If you open up your bag and there's no Quarter Pounder with Cheese, you are unhappy."
Except, it's not.  If you don't like your insurance policy, changing companies will not be the easiest thing to do.  There's pre-existing conditions, piles of paperwork to fill out, and limited options in terms of policy choices.  Plus, submitting a claim for your insurance to cover can be scary for a big procedure if the company thinks the procedure was not necessary to start with.
Not everything works better as a business. In an area like healthcare, the goal is to serve the most people to make sure that people stay healthy.  It's good economically and people are happier too when they have insurance.  The private sector might run something more cost efficiently, but does that really mean it's always the best policy option?  Whether Gingrich likes it or not, government bureaucrats file reports, perform investigations, follow stricter rules, and set regulations for the public good.  It is not something bureaucrats do because they hate you (as many conservatives want you to think).  They do it, no matter how long it takes, because it insures safety, accountability, and fairness.  In contrast, the private sector will quickly audit a project and find ways around regulations to make more of a profit, not necessarily to serve customers better.  Which system makes more sense, McInsurance Company or a public option?