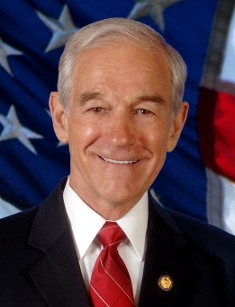 By Luke Brinker
One week ago, just as the latest controversy over Ron Paul's racist, homophobic, and conspiracy-minded newsletters erupted, the Texas congressman and presidential candidate's favorability among Democrats stood at 59 percent. This week, the Republican's favorability among Democrats skyrocketed to 70 percent. (During the same period, Paul's favorability among Republicans declined.)
Jonah Goldberg of Liberal Fascism fame will probably pounce on these numbers to suggest that it's Democrats, not Tea Party Republicans, who are more inclined toward racism. While this man-bites-dog narrative may be provocative, it's incorrect. Keep in mind that Paul's Iowa surge has occurred largely within the past few days. With that surge came increased media attention to the congressman's anti-war, anti-drug prohibition views. Many liberals are quite receptive to those views, overlooking Paul's wild-eyed views on monetary policy and ignoring his social conservatism.
As Paul's poll numbers rose over the past week, his GOP rivals' attacks focused mainly on his outside-the-GOP-mainstream foreign policy views, not the appalling content of his newsletters. Paul's positions on these issues were never well-concealed, to put it mildly, but his unexpected boost in the polls led fellow contenders to train more fire on them. His decreasing favorability among Republicans, then, is not surprising.
None of this is to let Paul's liberal fans off the hook. It's appalling to witness such left-wingers as Robert Scheer and Matt Stoller extol Paul's virtues as an anti-imperialist, anti-financial establishment spokesman. Scheer and Stoller both mention Paul's newsletters as stains on his record worthy of being taken seriously, but they argue that they should not be disqualifying. Paul, Scheer and Stoller assert, raises too many important questions about American empire, the war on drugs, and crony capitalism to be dismissed by the media elite.
With the caveat that Paul's unwillingness to buy into alarmism on Iran, his opposition to the disastrous drug war, and his stand against the Iraq war are all admirable, such positions do not outweigh Paul's ties to sickening racial bigotry, homophobia, anti-Semitism, and 9/11 trutherism. It is nothing short of disgusting to watch liberals to acknowledge that, sure, Paul may oppose the 1964 Civil Rights Act, but at least he agrees with us on some foreign policy questions. (But not all; he's against international organizations and aid to poor countries.) This is a candidate whose reflexive opposition to the welfare state led supporters at a GOP debate to cheer "Let him die!" when confronted with the case of an uninsured 30-year-old who found himself the victim of an accident. (Paul thinks voluntarism would suffice.)
Paul rightly points out that war should never be a first resort, but are liberals really prepared to support a candidate whose opposition to war extends even to the Civil War?