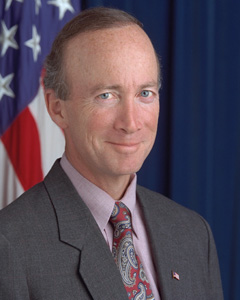 By Luke Brinker
With Newt Gingrich's South Carolina comeback upending the GOP presidential contest, Weekly Standard editor Bill Kristol has penned yet another plea for Indiana Gov. Mitch Daniels to reconsider his decision not to enter the race. It isn't too late (still!), Kristol writes, as the "Internet age" means that "there are more possible outcomes in today's politics" than ever before.
We will now pause to contemplate the fact that Kristol has been making some version of his "it isn't too late" argument for the better part of half a year now. Late last summer, he said there was still time for Paul Ryan and Marco Rubio to save the Republican Party with a conservative (wet) dream ticket. Just after Christmas, Kristol envisioned a late January entry by a new GOP candidate. Now he's saying it could happen sometime in February. At this rate, long after Newt Gingrich or Mitt Romney has wrapped up the nomination, Kristol will be contending that "it isn't too late" for Daniels, Chris Christie, Ryan, Rubio, Bobby Jindal, or some other savior to make a last-ditch bid at the GOP convention in Tampa. Failing that, after Gingrich or Romney's coronation ceremony at the convention, Kristol may urge party bigwigs to make a backroom deal bumping Gingrich or Romney from the ticket and installing a Kristol-approved candidate. But I digress.
Since a late entry by Daniels isn't going to happen, it's pointless to waste time pondering his prospects in the GOP field. It is worth asking, however, why Kristol, the hardest of hard-liners on Israel, would hope for a candidacy by Daniels, who is of Syrian heritage and has received an award from the pro-Palestinian Arab American Institute. (Can you imagine Kristol's reaction if a prospective Democratic candidate earned plaudits from such an organization?) Given that Daniels is something of a blank slate on Middle Eastern policy, neoconservatives like Kristol would have two options: either simply ignoring Daniels's potentially evenhanded view of the Arab-Israeli conflict, or ditching the Indiana governor once his departures from Likudnik orthodoxy became apparent. Many, if not most, neoconservatives would probably choose the latter option, which raises the question of whether there's any candidate who would satisfy the demands of those calling from more people to jump into the race. Jon Huntsman and Rick Perry were both Republicans who, unlike the other candidates in the field, didn't start seriously laying the groundwork for 2012 until 2011. (Perry, in fact, entered the race in August, which many pundits considered too late.) Party moderates nudged Huntsman into the race, arguing that sensible solutions would ultimately triumph over Tea Party temper tantrums. Conservatives saw Perry as the "total package," combining Tea Party credibility, a over a decade of service as Texas governor, and status as a "Washington outsider." Of course, both Huntsman and Perry are already out of the race, having failed to meet lofty expectations. The grass, it seems, really is greener on the other side.