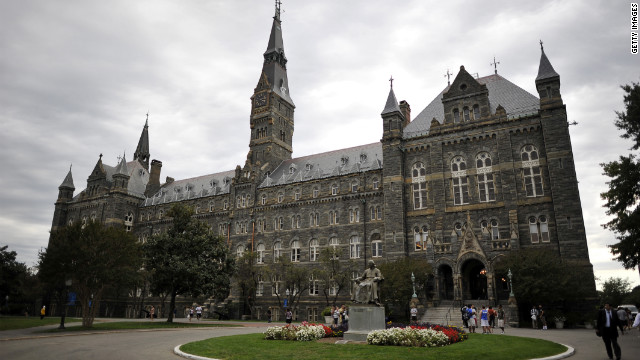 By John Stang
Today, Secretary of Health and Human Services Kathleen Sebelius will be speaking at an awards ceremony for Georgetown's Public Policy Institute as part of commencement weekend.  This choice has drawn criticism by conservative Catholic groups, namely the Cardinal Newman Society, a conservative Catholic watchdog group, and others who think allowing Sebelius to speak undermines Georgetown as a Catholic institution.  Sebelius, who is a Catholic herself, supports abortion rights for women and supported the controversial contraception mandate that infuriated the U.S. Conference of Catholic Bishops this year.
Georgetown President John DeGioia and the Archbishop of Washington D.C. have been in a war of words over the matter and the Cardinal Newman Society has received 26,000 signatures against HHS Secretary from speaking.  In other words, this is a repeat of the, on a smaller scale of the 2009 Obama Notre Dame commencement controversy.  The National Catholic Reporter notes:
DeGioia added that the invitation was not a challenge to the U.S. hierarchy and said that "as a Catholic and Jesuit university, Georgetown disassociates itself from any positions that are in conflict with traditional church teachings." But he also stressed that the university is "committed to the free exchange of ideas" and would not reverse course.
Of course, none of this is shocking.  This is a an old fight about how "Catholic" a Catholic University should be.  Not to mention that the Jesuits founded Georgetown and they are known as the footsoldiers of the Pope.  In my view, people can disagree with the speaker choice, but Georgetown has every right to invite whomever they want to speak at their institution.  Academic freedom allows for a good dialog between two sides and that famous guy we Catholic like to hear about every Sunday, Jesus, did say to "love thy enemy."  Not to mention that it goes with the territory of inviting a public political figure.
If Catholic universities can only invite people who agree with straight Catholic teaching, then only church officials would be allowed to speak.  I think those that complain should take a cue from Liberty University, an evangelical university, that invited Mitt Romney to speak, despite evangelicals disagreement with Mormonism, namely by labeling it a cult.  Sending a message that we are all Catholic, despite our personal political beliefs, and can come together to have a dialog is what academic freedom at a Catholic University is all about.  I firmly support Georgetown's decision!