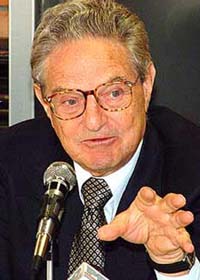 By Luke Brinker
One of the right's favorite hobbyhorses is the theory that President Barack Obama and the "Democratic machine" are puppets of billionaire financier and liberal philanthropist George Soros. Thanks to the intrepid reporting Andrew Breitbart (last seen brandishing a photo of Anthony Weiner's male member) and his Big Government site, we now know that President Obama's recent call for increased natural gas production stems from Soros's investments in natural gas:
But hidden behind the scenes is another multi-billionaire, one with a much more sinister motive than mere profit. A man who's vast fortune of nearly $7 billion is being used to subvert nearly every American institution to conform with his dream of a worldwide socialist utopia.

George Soros.

According to the website GuruFocus, which tracks the investment habits and portfolio trends of some of the world's richest people, George Soros has made some intrigiung investments into alternative fuel companies of late, specifically those at the forefront of natural gas. This would not be so troubling except that, as GuruFocus points out, Soros has accurately predicted both economic bubbles and quickly growing industries. As a result, Soros's funds have turned out a 30% return on investments since their inception.
Ah, yes – the "multi-billionaire" who is "hidden behind the scenes," harboring a "sinister motive." Need I even mention that Soros is Jewish, or does the innuendo suffice? (Yes, Breitbart, too, is Jewish, but remember that the right  never hesitates to dismiss Jewish critics of the Israeli government as "self-hating Jews.")
Not that this laughably flimsy conspiracy theory merits any response other than sheer ridicule, but it's worth noting that  Obama's support for natural gas isn't exactly new. For instance, he advocated stepped-up production in his 2008 Democratic National Convention acceptance speech.
At any rate, it's fun to witness the free market-loving right suddenly cast suspicion on those profiting from their investments. Oh, right – it's only "crony" capitalism the right despises. Good thing they spoke out when Halliburton, once led by Dick Cheney, was winning no-bid contracts in Iraq. Oh wait…