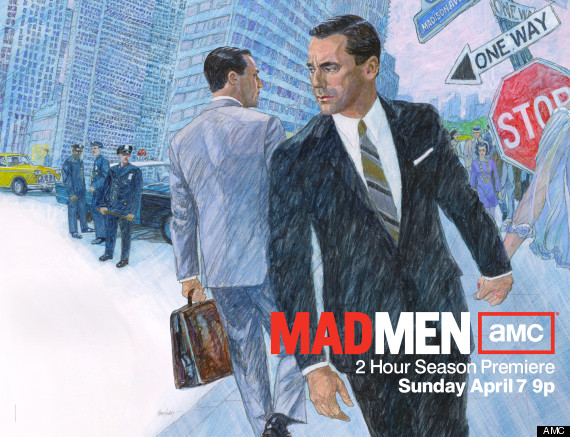 Last night's season finale of Mad Men created more questions than answers.  What will Don Draper do with his new suspension from Sterling/Cooper?  Why did he bring his children to his boyhood home?  Will Bob Benson continue to be Pete Campbell's foil?  Can Peggy break beyond the bounds of the male-dominated corporate landscape or even find love?
More importantly, how will the characters continue to interact with historical events taking place around them?  This season took place in the tumultuous year of 1968, a year filled with a broken Democratic Party, tensions over Vietnam, and Nixon's ascension to the White House after eight years of being away from public office.  Moreover, we continued to see, as with all Mad Men seasons, an interesting interaction with history.  In most episodes the characters simply see an event television (such as Chicago riots at the '68 DNC convention this season) comment on the event, and then move on with their day.  Sure, the events of history are occurring but only as a back-drop.  This is the way most ordinary people see historical events, especially political ones, as nothing more than a thing they read in the newspaper or a picture on the six o'clock news.
What I have always found attractive about Mad Men's historical prism is its slow moving story lines that force the viewer to see the transition as a slow process.  Even as years pass, the audience continues to see remnants of the past – similar clothing styles to the early 1960s that appear in the late 60s, Peggy and Joan moving up the corporate ladder as female employees at glacial speed, continued sexual harassment in the workplace, and business-as-usual-drinks and smoking that, despite heath warnings, continues to occur.  What Matthew Weiner has stumbled upon in an ingenious way is temporal transition as a slow process where structural change trumps big events as the main mover of history.  In a way, Mad Men is much more accurate than, say, Downton Abbey, where big events, like World War I and the invention of the telephone, change everything in an instant (or the characters in Downton Abbey announce it more profoundly that times are changing).
Television has long struggled with how to hi on the topic of transition through time, but Mad Men, despite its frustratingly slow pace, is the closest to what transition looks like.